Dear Hubby is off hunting the elusive wild turkey: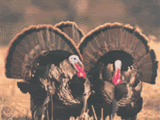 I told him not to come home without one! These things - - believe it or not - - are mighty tasty! The meat is not white or dark, but more like a combination of the two, and it stays real moist and juicy. Just pop it in a turkey roasting bag, and you're good to go . . .
Now I'm getting hungry! :-)
Good luck hunting, babe!