We have had HORRIBLE weather lately. First, 12 inches of snow, and now thunderstorms that have dumped almost 4-1/2 inches of rain on our area, causing flash flooding throughout the area.

And the thunderstorms? Vicious!

Last night a heavy thunderstorm moved through our area around 5:30 PM. I was still at work (taught a class last night) but Dear Hubby was at home. There was a very bright bolt of lightning and a large clap of thunder; he knew it had hit somewhere close by. He looked out our sunroom windows, and this is what he saw, about 1/2 mile from our house: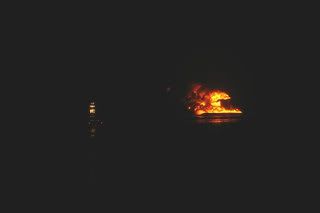 That is a picture of three OIL STORAGE TANKS - - lightning had hit and caught 2 of the 3 tanks on fire!

Hubby called 911 to report the fire. Rescue personnel immediately flooded the area, and the road just past our house was blocked off.

They had just gotten a good stop on the fire, when it re-ignited, causing one of the tanks to explode: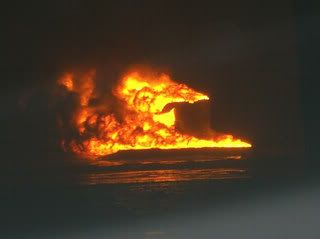 Flames were literally shooting hundreds of feet in the air!

The news crew interviewed Dear Hubby, since he was the one who reported it. The link to his broadcast is

here.



They finally got the fire under control around 9:00 PM, just before I got home from work (so I missed all the excitement!). Fortunately, no one was injured during the whole ordeal.

Mother Nature can be a vicious bitch sometimes . . .