Saturday, Dear Hubby Steve and I decided it was time for a "Day Trip", so we decided to head on over to Fort Wayne, Indiana, and check out
Eileen Cook's
Book Signing for her recently released book, "Unpredictable."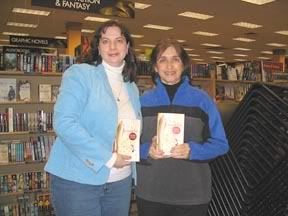 There was a nice group of people at the signing. Eileen did a brief reading from the first chapter, and then answered questions from the audience.
Some of Eileen's family members were there, and it was very obvious how proud they were of her (especially her Very Proud Father). They have good reason to be!
Eileen signed my book, and graciously took time to talk with me. She is very personable, and you can tell she loves what she does.
On the back home, Steve drove, and I took the opportunity to browse through the first chapter. I can already tell that I am going to thoroughly enjoy reading this book!
If you are looking for a good read with plenty of humor, please check out Eileen's book. I guarantee you will not be disappointed!