Saturday morning dawned sunny and cool; Mother Nature was giving us a break for Celebration! Usually it's so damn hot at our stage area, being surrounded by concrete and asphalt, with nary a shade tree in sight. But the weather gods smiled on us this day!

Unfortunately, Dear Hubby and I couldn't get downtown in time for the parade, because of all the yard work that needed done at the OTHER DAMN HOUSE THAT STILL HASN'T SOLD (not that it bothers me or anything, not a bit)(yeah, right).

AAAANNNYYYYWAY - - I was a little p.o.'d that I had to miss the parade, but we got there around Noon to help set up for Saturday's band, The Smithereens.

Now, I had heard of The Smithereens, but I was only familiar with one of their songs, "A Girl Like You", that I think came out around 1989. It's a good song. Find a video of it on YouTube and enjoy it.

The band wasn't supposed to be there for a couple more hours, so Steve and I decided to walk down to see his HERO - - none other than drag racer "Big Daddy" Don Garlits! Big Daddy was there with one of his dragsters, Swamp Rat VIII. I was able to get some pictures to mark the occasion: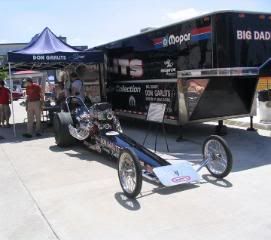 The Dragster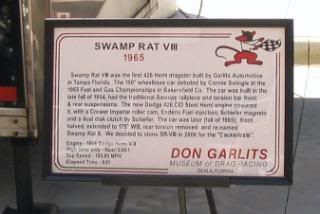 Sign telling about the Swamp Rat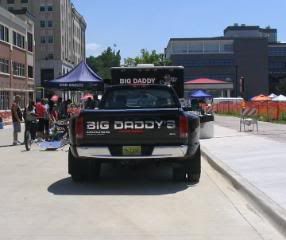 "Big Daddy" truck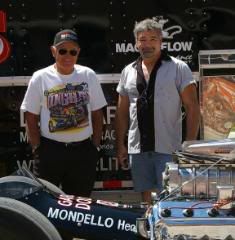 Steve is thinking, "I get to meet MY HERO,and all I have to wear is this lousy BOWLING SHIRT!"



We then decided to walk around a bit more and see some people. One of the roving characters was the Traffic Cop from Providence, Rhode Island, who is famous for directing traffic IN STYLE - - his name is Tony, and he is a great guy.

Here is a YouTube video of Tony in action:


AND here's Tony at our little downtown party: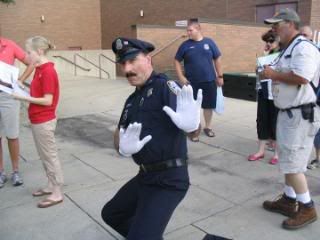 It was time to head on back to our Stage and see if the band was there so we could get set up. Saturday night was going to be a busy one. But on our way back, we went by the North Street Stage, and saw an amazing Blues musician, Melvin Taylor. That guy could really make the guitar wail!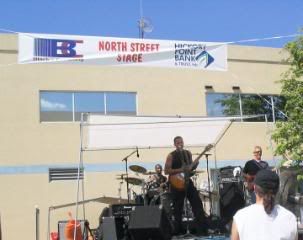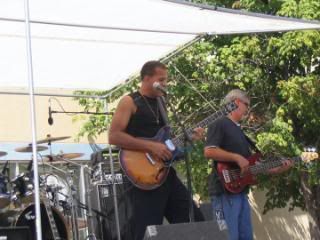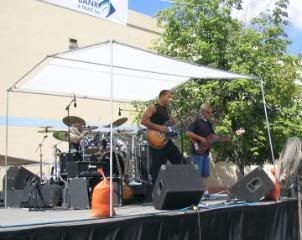 We listened to a couple of songs, but then kept on towards our Stage. The good thing was, our stage was just around the corner from the stage Melvin Taylor was on, so we could still hear him as we got ready for our Saturday night show!

Saturday night will be the next post, and it will be a good one!