Decatur Celebration time - - time to party, time to play, time to work our asses off!
22 blocks of downtown are blocked off starting at 5 AM on Friday, and work begins. Stages are built, vendors are moved in, electric is connected (drops were placed prior to Friday), and supplies are carted in.
Here is our "home away from home" for the next 3 days: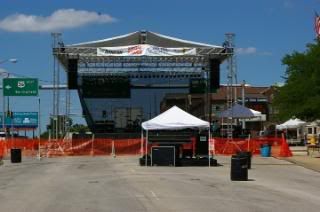 This is the Show Stage, the big main stage of the Celebration. It's our baby to take care of, along with the road crews, sound crews, and entertainers for the stage.
A couple of views from the Stage, down the street, showing some of the preparations for the event: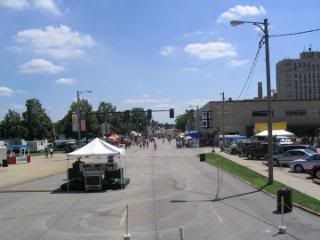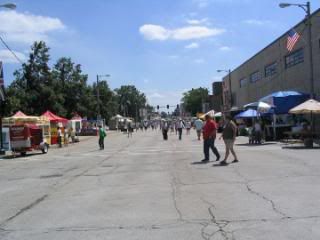 Everybody is working hard, getting ready for 5 PM Vendor openings, and 6 PM Opening Ceremonies.
At 6 PM, the party officially kicks off, and our first show,
Vince Vance and the Valiants
, begins: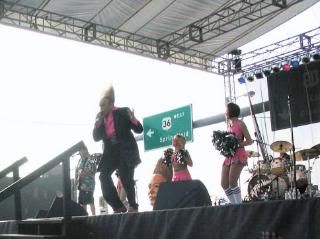 Can you believe that hair?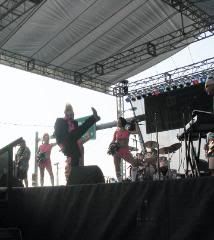 He really knows how to work a crowd: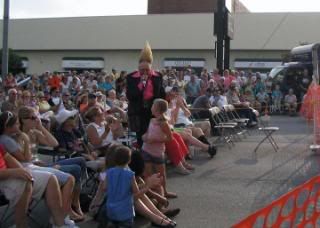 This is a 6-foot replica of Vince's head and hair, that he always has on stage:
Vince and the band have played at the Celebration 5 or 6 times over the years. They put on an incredible show, as always! Check out his
website
if you want to know about him - - he's a fantastic performer, and just an all-around nice guy!
After their 2 sets were finished (6:30, and 9:45), band equipment was torn down and the stage secured, Vince came backstage and sat with all of us and just visited for almost an hour. He has played in Decatur many, many times over the years at different events, and loves it here. We laughed and chatted, and it felt good to just relax and enjoy the cool night air.
But, it's time to head on home; tomorrow is another busy, busy day!