The presents are all wrapped and under the tree, which, by the way, is STILL STANDING! After just a couple of minor incidents, the furbabies have decided they have better things to do than mess with the tree. In fact, Dear Squeak has decided she likes laying under the tree, where the heat vent points out towards the tree, and take a nap. I do believe we could put a bow on her and she would just blend right in with the rest of the packages!

So here we are - - Stage Three: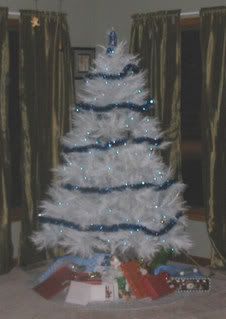 Nothing left to do now but sit there in the loveseat, hot mug of tea in hand, nice warm kittycat on my lap, and snuggle up with Dear Hubby and enjoy! And with my Holiday Break starting after work tomorrow, and not having to go back until January 2nd, there will be plenty of time to do just that!